40 years of vision … and we've still got our eye on you!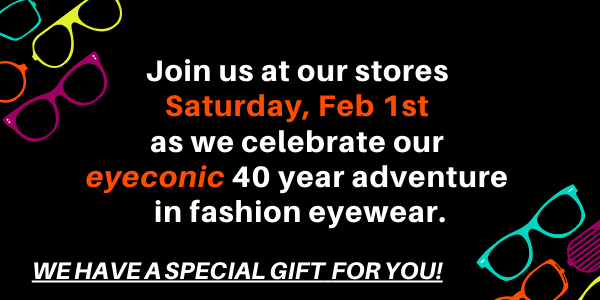 And in the blink of an eye …

Garry Hapton had a vision 40 years ago to bring fashion eyewear to Calgary.
Opened on January 29, 1980 in Mount Royal Village, The Brass Monocle quickly became the go-to for shoppers looking for fashionable yet functional frames. Owner Garry Hapton envisioned a boutique shop that offered high-end eyewear and high-quality service. Soon after opening, he gained access to product from designers from New York City, Paris, Milan, and other European fashion hubs. And Calgary hasn't looked the same since.
With a stellar reputation for fashion and service, The Brass Monocle joins the ranks of a handful of legacy independent businesses in operation in Calgary for more than 40 years. Hapton credits the store's success to staying fresh, taking chances, and never underestimating the market. His best advice for retailers weathering the current economic storm is patience and incredible staff.
"Some of our staff have been here for 35 years," he says. "They've been very loyal over the years and have built a dedicated clientele that span generations. Now they're mentoring younger staff."
And similar to the boom-and-bust economy, Hapton has also seen more than one trend come and go — and then come back again. "It's all circular," he says. "But technology is the future of eyewear design. Today we're seeing frames made of innovative new materials like paper, recycled plastics, titanium, copper, aluminum, magnesium, and horn. We're here to introduce the marketplace to what's next."
The Brass Monocle invites friends old and new to celebrate with them from 10 am to 5:30 pm Saturday, February 1, 2020.
As an homage to the iconic styles of the past 40 years, The Brass Monocle will also be hosting industry eyecons Blake Kuwahara and Richard Mewha, leaders in design and distribution, along with the latest in eyewear from acclaimed eyewear lines Blake Kuwahara and Bevel Specs.
We hope to see you!
XO
BM